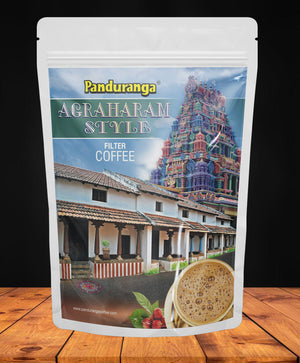 AGRAHARAM STYLE FILTER COFFEE
Sale price Price ₹840.00 Regular price Unit price
Tax included.
Shipping
calculated at checkout.
Agraharam literally means "Garland of Centuries old Traditional Brahmin & priests houses" usually surrounding a shiva or vishnu temple built in an unique vintage style.  The early morning life in agraharam all calming, the suprabhatam, the sight of the decorative kolams & the aroma of the filter coffee.  The colony's Brahmins view drinking coffee as a matter of pride - symbol of their progress, served in regular intervals and is considered as iconic beverage in the colony.
Every household pays much attention to the family recipes, which are brewed with great care and dedication using the brass filters used by the ancestors and served in Brasss dabra sets. Filtered coffee is what "Agraharam Brahmins practice in their religion and culture.

Contains Coffee 90% + 10% Chicory