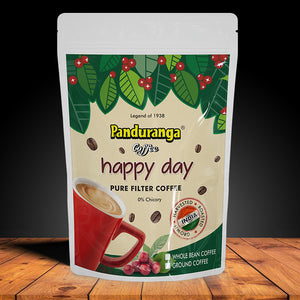 Happy Day Grand Aroma Pure Coffee Without Chicory (for Black Coffee/With milk consumers)
Sale price Price ₹840.00 Regular price Unit price
Tax included.
Shipping
calculated at checkout.
HAPPY DAY GA PURE COFFEE is for coffee lovers who consume their coffee usually WITHOUT milk & this is best suited for those who prefer black coffee
HAPPY DAY Grand Aroma was created as a response to the grand consumer's desires for a different, more sophisticated and more urban concept of filter coffee experience. Grand Aroma is an exclusive blend of premium quality roasted and ground coffee made from a variety of carefully selected coffee beans grown on the high altitude, sky kissing plantations in India. HAPPY DAY Grand Aroma pure coffee give a rich caramel taste and mouthfeel. For the true connoisseurs, for the beginning of a new day and work, for the admirers of small rituals and for conceptualizing great ideas and for maximum delight - HAPPY DAY Grand Aroma is the right choice!