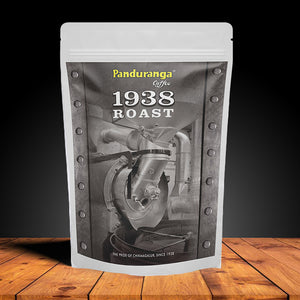 1938 Roast (Premium Filter Coffee)
Sale price Price ₹940.00 Regular price Unit price
Tax included.
Shipping
calculated at checkout.
Panduranga Coffee is proud of its long rich history as one of the oldest family owned coffee roasters in Chikmagalur - Founded in 1938.
"1938 Roast" by Panduranga Coffee is to celebrate the legacy of its 80th year milestone. The significance of 1938 roast is derived from the year Panduranga Coffee Works was established. 
This arifully roasted blend has been perfected over 4 generations in the birth place of coffee, Chikmagalur since before the time of independence. Our dedication to quality ensures that every cup brewed from 1938 roast leaves our customers smiling.